Ladies and gentlemens. It's with great pleasure that I introduce you to Mohammed Danjuba...
Dear friend,
Good day to you. I am Mr. Mohammed Danjuma; the chairman to the contract
awarding committee of the Federal Government of Nigeria. Your contact was
gotten from information from our database.
I have a business proposal that might interest you. Presently, we have
$35,000,000.00(Thirty Five Million U.S Dollars) that we want to transfer to
a foreign account that can contain the amount.
The source of this fund is from an over invoiced contract that was done
some years back by a foreign company called Lambs Systems.
DOES HE KNOW MY REAL NAME, OR IS THIS A WEIRD COINCIDENCE??
This contract
involved the laying of oil pipelines from Warri to Kaduna refinery here in
Nigeria was issued by Nigerian National Petroleum Corporation (NNPC). My
colleagues and I deliberately over invoiced this amount of 35 Millions US
Dollars after the actual contract amount has been paid to the company that
executed the original contract.
So, did you steal it or what?
We as civil servants are not permitted to operate foreign accounts,
secondly
a foreign company did the original contract, thus there is need for a
foreign account.
Thirdly, due to the unsteadiness of the political conditions and the
Nigerian economy, we want to move this fund as soon as possible before the
reviewing of the contract at the first financial quarter of this year. As a
result of this, we want to transfer this fund to your nominated bank
account.
Once this goal is achieved, twenty-five percent will be yours, sixty-five
percent for us, while ten percent would be set aside for any miscellaneous
expenses incurred during the process of transfer.
hmmm...3.5 million to cover expenses...that should be enough.
My colleagues and I shall travel to your country for the disbursement of
the fund after which you will help us invest our own share in your country.
Please the detail of this transaction is top secret and highly
confidential.
Do not disappoint us as soon as this money gets into your account because
we
have used all our resources and connection to make sure that this
transaction is without any hitch and 100% risk free.
this one is 100% risk free too! awesome! count duane in!
If you are interested, please mail me back so that I can give you all the
necessary details.
I assure you that this transaction will be to our mutual benefit if at the
end, you will be honest to us.
Awaiting your reply.
Thank you,
Mohammed Danjuma.
Date: Thu, 27 Mar 2003 11:02:59 -0800
Subject: <no subject>
From: Duane Detaub <duanedetaub@yahoo.com>
To: <mohammeddanjuma@wwdcs.net>
Dear Mohamed,
Please allow myself to introduce me, I am Duane DeTaub. I must say letter
was quite a surprise as I have only been on the interneck for about 2 weeks
now. Your story is most intresting. You couldn't have picked a better person
for this job because no one lays pipe like Duane. Anywho, I'm not too
knowing about overseas money as I've never been out of the great state of
Texas where I'm the assistant shift manager at a tanning salon. It's called
When a Tan Loves a Woman - you might have seen it on the tv as we were once
featured on episode of Cops when a drunk driver crashed into the Dairy Queen
next door killing the retarded boy that used to live about 2 trailers away
from me. They interveiwed me and everything, but I didn't know much about
the tard boy because he couldn't say anything I could pick up on. Sounded
like he had a mouthful of gummiworms, poor fellow.
I've checked with my bank and surprise surprise they said that all that
money will fit in the account. I wasn't sure how much room they would give
me as it is a very small bank that is in a bilding that used to be a drive
thru Fotomat. I checked with the boss, and it looks like I can get over
there to move your money first week in April. I'm going to need a small
loaner on my share to get myself over there, and maybe a map or something. I
don't like planes, never done trusted them, plus I heard talk of a war and I
think the sky might be a scary place so we'll need to see if there is a
ferry I can catch. Once I arrive, I'll need a car, a Ford Taurus (or better)
and something akin to a Motel 6 with a minibar of course. A man of my
stachure needs certain comferts in life.
Please get back to me soon and let me know about all this.
Duane DeTaub
Assistant Shift Manager
so this is basically the same as the first email to Mr. Isaac, with a couple small modifications to address certain differences in Mohammed's email versus Isaac's email, such as the pipe laying reference and the amount of "room" for the money.
Date: Fri, 28 Mar 2003 03:43:19 -0800 (PST)
From: "Mohammed Danjuma" <mohammed_danjuma008@yahoo.com>
Subject: RESPONSE.
To: duanedetaub@yahoo.com

Dear Mr. Duane,
Thank you for your email. What can I say? You are a very impressive
personality; but to be frank with you, this transaction is of a very large
magnitude and it is very important that all the details must be kept as
confidential as possible. The funds (35 Million US Dollars) is a gottin
is a gottin? you'd think duane wrote this.
from
an over invoiced contract executed long time ago by a foreign contractor
with
the NNPC here in Nigeria and we want these funds to be transferrred into
your
nominated bank account. Further details would be given to you later.
Meanwhile, I want to ask you; have you handled large volume of funds before?
What are the investment opportunity that abound in your base? How old are
you?
Please be very sincere in your response.
but of course.
You can call me on my private cellphone for a verbal discussion.
234-8037217569
mmmm...sorry, Duane can't call long distance from work
Awaiting your response.
Thank you.
Mr. Mohmmed,
Date: Fri, 28 Mar 2003 20:14:21 -0800
Subject: re: RESPONSE.
From: Duane Detaub <duanedetaub@yahoo.com>
To: <mohammed_danjuma008@yahoo.com>
notice mohammed switched email addresses - this must be the address he uses when he hooks a sucker.
THings are crazy here. Aparently its true, we are at war. My only son
Ketchup (we call him that because he gots big red spots on his face that
never went away even though the lyer docter said they was ) has been drifted
into the army. My wife Philla is torn up right now dealing with this, plus
her scurvy has kicked into high gear so I guess you can reckon shes a bear
to be around. Anywho, that's the way the cookie bounces. Even still I will;
help with that money you a gottin from those ppipe people. I cant call long
distance from work, and im pretty darn sure Vernon Foonman the shift manager
here listens in on phone calls. He might catch on and then we will be in for
it. I do not trust that guy he is very bad man. I think we should talk with
the electric mail even tho it takes me about an hour to type these. To
answeryour other questions Im 54 years old not that it is your concern.
Maybe you send me a picture and Ill send you one. I just lerned how to do
that. Its been great except my aunt Eunice sent a pictur and ill never get
why a woman that is as heavy as a dam horse would wear cut off shorts. Her
legs look like a wet pillow that has been run over by a football team with
cleets. Like I said we just got the internek here at work which is just
dandy since I got to meet you plus find out all kinds of things. I've never
had so many people that wanted to talk to me before. Its set my mind goin a
milliun miles an hour. I got good idea for making some money in our base.
All our base are belong to us and maybe if we get to know each other ill let
you in on the whole thing. So what next - YOu got a ferry ticket fixed up
yet? Im ready to come move that money and take my part. I got to go now im
at work and I think I here one of the customers going crazy because the door
to the back tanning room wont open from the inside. Lord shes making a
ruckus. Well talk soon I hope.
Duane DeTaub
Assistant Shift Manager
"all our base are belong to us" is a internet-famous saying that came about from a japanese video game translated very badly into English. Someone made a song out of that sample and I happen to have a t-shirt...couldn't resist...
------------
Date: Sat, 29 Mar 2003 04:39:15 -0800 (PST)
From: "Mohammed Danjuma" <mohammed_danjuma008@yahoo.com>
Subject: re: RESPONSE.
To: "Duane Detaub" <duanedetaub@yahoo.com>

Mr. Duane,
Thank you for your email. You haven't answered the most important part of my
question. I asked you; have you handled large volume of funds before. See,
this is not a joke, it is a deal and we must be sure that you have the
capability to accomodate these funds.
Please re-assure me on this after which I will fill you in on the neccessary
details that you need to know.
Thank you.
Mohammed.
-------------
Mr. Mohmmed,
Please excuse delay for responce, I was helping Ketchup get his things
together to catch the bus for Fort McKilla where the boot camp am. The boy
just aint right, he don't belong out there he'l just get hurt and probly get
others hurt to, but I still love the little bastard from his pointy head
down to his web feet. Now to your mail.. I done told you alreadty I can take
the money and if you was reading my mail you would know that I am an
Assistant Shift Manager. Let me explane , the great state of Texas don't get
much sun which is why When a Tan Loves a Woman does right good business
which means tens of dollrs every hour.
This was my first test to see exactly how much brain power I might be dealing with since Texas is a damn sunny state. Now I can gauge how much I can let Duane off the chain...
Son, here in Lubbock my home town we
gets to know people before we just go willy nilly into finanical dealings.
You saying it is a joke gets my dander up I tell you what. Aint nothing
funny about my new idea that is going to make lots of money. I can make
Cluckys Discount Chicken and Liqor stores look small potatoes ifn I can
raise the money to get going. You want in on in this, then you best come
correct with the insult and we can be pardners but if we going to be
pardners youd do right to be a bit more neighberly.
Like how Duane got a little gangsta on him? Also note that Duane spells Mo's name wrong every way possible. Mo never corrects him funnily enough.
I done said my peace, so
you let me know if you want to be pardners. Like my pappy used to say before
the mulcher incidint that took him from us far too early little baby jesus
rest his soul, this deal is so good itd make a rabbit spit in a bulldogs
eye.
Duane Detaub
ASSISTANT SHIFT MANAGER
------
Date: Mon, 31 Mar 2003 08:57:47 -0800 (PST)
From: "Mohammed Danjuma" <mohammed_danjuma008@yahoo.com> | This is
spam | Add to Address Book
Subject: DETAILS.
To: "Duane Detaub" <duanedetaub@yahoo.com>

DEAR MR. DUANE,
THANK YOU FOR YOUR RESPONSE WHICH HAS BEEN DISCUSSED BY THE PARTNERS HERE.
I HAVE THUS BEEN MANDATED TO BRING YOU INTO THE FULL PICTURE OF THIS
TRANSACTION
WITH YOUR APPARENT UNDERSTANDING OF THE NEED FOR UTMOST CONFIDENTIALITY
ABOUT
EVERY DETAIL OF THIS TRANSACTION.
THE FUNDS IN QUESTION – US$35,000,000.00
THIS AMOUNT IS ATTACHED TO A CONTRACT IN WHICH THE ORIGINAL CONTRACTOR HAD
BEEN PAID LEAVING THE BALANCE WHICH WE DISCOVERED IN A CODED DEDICATED
ACCOUNT
AT THE APEX BANK HERE IN NIGERIA.
THE SCHEME:
So it is a scheme. Thank you Captain Obvious.
BY VIRTUE OF OUR POSITION ON THE C.R.P, WE WILL USE OUR INFLUENCE TO
VALIDATE
ALL CLAIMS AND ENTITLEMENTS OF FOREIGN CONTRACTORS FOR OUR GOVERNMENT. WE
WILL
FILE YOUR COMPANY AS A SUB- CONTRACTOR TO THE COMANY WHO EXECUTED THE
ORIGINAL CONTRACT.
IN ORDER TO PERFECT AND LEGALISE THE ARRANGEMENT, WE SHALL INCORPORATE YOUR
COMPANY AS A LIMITED LIABILITY COMPANY IN NIGERIA, REGISTER IT AS A CATEGORY
'A' CONTRACTOR WITH THE N.N.P.C, PAY INCOME TAXES ON BEHALF OF THE
REGISTERED
COMPANY AND MAKE OTHER ARRANGEMENTS WHICH WILL ENSURE THAT YOU ARE REGARDED
AS
A BONAFIDE CONTRACTOR IN BUSINESS IN NIGERIA FOR MANY YEARS. BEYOND THIS, A
VETTED APPROVAL WILL BE SECURED FROM THE ATTORNEY GENERAL OF THE FEDERATION
ON
YOUR BEHALF STATING THAT THE FUNDS IN QUESTION IS A LEGITIMATE CONTRACT
PAYMENT AND DOES NOT BREACH ANY LAWS OF YOUR COUNTRY AND OUR OWN.
FROM OUR RESEARCH, WE KNOW THAT YOU WOULD BE INVITED TO COME OVER TO SIGN
THE
DOCUMENTS RELATING TO THE TRANSFER AND WE EXPECT YOU TO DO THIS ON OUR
BEHALF
WITHOUT ANYONE KNOWING OF OUR INVOLVEMENT. ON THE OTHER HAND, WE KNOW IT IS
ALSO POSSIBLE FOR YOU TO EMPLOY THE SERVICES OF AN ACCREDITED LAWYER HERE IN
NIGERIA TO SIGN THESE DOCUMENTS ON YOUR BEHALF; HENCE YOU SHOULD PLAN
TOWARDS
YOUR CHOICE BETWEEN THE TWO OPTIONS IMMEDIATELY.
WHEN THE DOCUMENTS ARE SIGNED, THE FUNDS WILL BE TRANSFERRED INTO YOUR
NOMINATED BANK ACCOUNT WITHIN 48 HOURS AND AT THIS TIME TWO OF US PARTNERS
WILL IMMEDIATELY TRAVEL TO MEET YOU FOR THE PURPOSE OF SHARING THE MONEY,
WHILE THE REMAINING TWO OF US WILL WAIT BEHIND TO RETRIEVE AND DESTROY ANY
EVIDENCE LINKING YOU OR MEMBERS OF OUR PANEL TO THE TRANSACTION FROM
GOVERNMENT RECORDS HERE FOREVER.
OUR INTENTION UPON MEETING YOU IS TO GIVE YOU A SHARE OF 25% OF THE TOTAL
FUNDS FOR YOUR COOPERATION, AND A FURTHER SHARE OF 5%TO COVER ANY EXPENSES
YOU
INCUR IN THE PROCESS OF GETTING THE MONEY INTO YOUR ACCOUNT. WE SHALL RETAIN
70% FOR OURSELVES, AND OF THIS SHARE, WE SHALL AGAIN REQUIRE YOUR ASSISTANCE
TO HELP US INVEST A PART INTO PROFITABLE VENTURES IN YOUR COUNTRY.
DEAR PARTNER, NOW THAT WE HAVE DECIDED TO DO THIS DEAL WITH YOU, WE COUNT ON
YOUR TRUST AND HONESTY AT EVERY STAGE, WE ALSO COUNT ON YOUR FULL
COOPERATION
IN THE LITTLE TIME INVOLVED AND MOST IMPORTANTLY, WE COUNT ON YOUR
DISCRETION
AND CONFIDENTIALITY. NOBODY, NOT EVEN YOUR BANKERS MUST KNOW ANYTHING ABOUT
THIS TRANSACTION TILL WE CONCLUDE IT
WHAT YOU MUST DO:
FOR THE TRANSACTION TO COMMENCE YOU SHOULD SEND US YOUR BANKING PARTICULATS
WHICH INCLUDES THE ACCOUNT INFORMATION, AND THE BANK ADDRESS. ALSO, YOU HAVE
TO SEND US YOUR FULL COMPANY DETAILS WHICH WILL INCLUDE THE NAME AND THE
ADDRESS.
THIS HAS TO BE DONE IMMEDIATELY AS WE ARE DETEREMINED TO CONCLUDE THE
TRANSFER
WITHIN THE NEXT 12 WORKING DAYS. THIS FILLED CLAIM WILL ACCOMPANY MY PANEL'S
RECOMMENDATION TO THE
APPROPRIATE GOVERNMENT AGENCIES FOR THEIR APPROVAL OF THE TRANSFER.
WE WAIT IN EARNEST ANTICIPATION OF YOUR PROMPT REPLY AND FOR YOU TO SEND TO
US
THE INFORMATION WE REQUESTED FROM YOU.
THANK YOU,
MOHAMMED.
----------
Date: Tue, 01 Apr 2003 23:07:43 -0800
Subject: re: DETAILS.
From: Duane Detaub <duanedetaub@yahoo.com>
To: <mohammed_danjuma008@yahoo.com>
Dear MR. Mohmmed
Son you are making Corky my recent departed neighber seem like a real smart
dude. I done told you many times that we get to know people here afore we
become pardners. Now I thought this was between you and me, now I hear you
have pardners. I been keeping this on the down low. Vernon's been snoopin
around, he can smell stuff I tell ya so I been making sure he aint around
when I send you stuff because he is going to want in if he find out. He
makes me as nervous as a long tail cat in a room full of rocking chaires.
Now I got big plans for here once Ive a gottin your money out for you. Is
you is or is you ain't my pardner? Who are these others? Son here in the
great state of Texas we have a saying that says you don't put a horse before
the cart and make him pull it around or something like that which I reckon
means first things first. Since we cant meet like gentlemen I thinks you
should send your pictur and tell me something about you and your pardners.
I am giving you a pictur of me with this electric letter. The pictur got me
and Philla with my car (Stomper) and our converted doublewide is in the
back. As you can see, I am a very lucky man and you can get lucky too if we
become pardners. Now get back to me about all this real fast because my plan
has to start now if we going to get in on this afore someone else does. You
got my ferry ticket? By the by, I plan to see some kangroos while I'm over
there. Maybe you could mail me any broshures you got on the area, specially
ones about kangroos - Philla loves them little critters, maybe I can bring
back a baby one since we can't have kids no more cause of that skeet
launcher insidint. Please write back soon.
Duane DeTaub
Assistant Shift Mangler
Do you think that last spelling error was a little too obvious? Below you will find the picture I used to represent my fake characters which I found on the web. Handy little tool that interneck.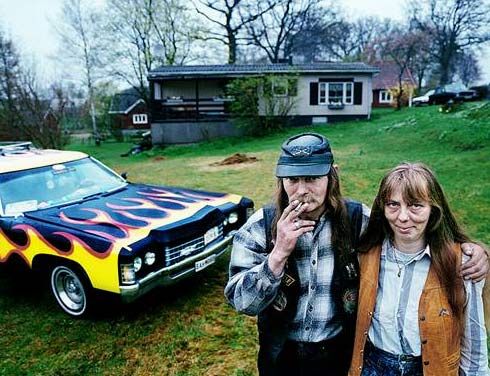 A little too perfect, yes?
----------------
Date: Wed, 2 Apr 2003 00:16:43 -0800 (PST)
From: "Mohammed Danjuma" <mohammed_danjuma008@yahoo.com> | This is
spam | Add to Address Book
Subject: re: DETAILS.
To: "Duane Detaub" <duanedetaub@yahoo.com>

Duane,
My partners and I are involved in this transaction and we are keeping this
as private and confidential as possible. You understand? There is nothing to
worry about. The only assurance we want from you is that you won't fuck us

Oh no you didn't just swear at Duane. Bitch, don't make me put my baby down. This kitten has claws...
up as soon as the money is confirmed to be in your account. Trust is one thing
we
need from you.
Sorry, is that your wife in that picture with you? She is a very pretty
woman.
Anyway, I will get my secretary to scan and send you a copy of my picture
later in the day.
Do you have a private cellphone number where you can be reached? We need to
have a verbal communication.
Thank you,
Mohammed.
-----------
Dear Mohmmed,
Son I have a bone to pick and a few to break.
One of my favorite lines from a band called The Refused.
In the great state of Texas we
do not speak the profane when doing busines. The word you said in your last
electric mail will set little baby jesus ears on fire. Reverend Jebediah T.
Slocumb says people that use them words will spend an eternitty in a lake of
fire amidst nashing of teeth and worms of evil. I think the T. is for
Tiberius but I aint sure. As my pardner I don't want to see you end up
there. Now I am happy you are sending pictur and please send your pardners
and tell me about them. You reckon my wife is pretty huh? Son are you on the
pipe? Is your eyes not right? She has a face that would make a frieght train
take a dirt road. And she is meaner then a trappd bear. She was fine when
she was 16 and we got married, but that was 20 years ago. Take a look at
that pictur again real close like and you see. Then check out my car
Stomper. Now thats fuckin pretty. Me and Stomper are high tailin out of
there as soon as we get our plan into works. I just need to get some money
scared up so I can make this plan happen and leave her enough for food and
smokes and move on down the road. You aint heard my plan yet, but when im
satisfid that we is pardners I'll let you in on the whole shebang. Dont let
me down. I will wait for your picturs. Please hurry.
--------
Mohammed didn't get back to me as quickly as he usually does. Feeling a little worried about the poor scammer, I thought I would drop him another line and let him know I had some money and introduce someone smarter than Duane to handle this daunting transaction.
Date: Fri, 4 Apr 2003 00:43:34 -0800 (PST)
From: "Duane Detaub" <duanedetaub@yahoo.com>
Subject: re: DETAILS.
To: "Mohammed Danjuma" <mohammed_danjuma008@yahoo.com>
hello mr mohmmed,
where is your pictur? i understand if you been busy. i
been busier than a one legged man in a ass kickin
contest. time is a tickin we must hurry to make this
happen. i just came into some money so im thinking
bout hiring Ignatius J. Reilly who is a famus lawyor
on the tv here. i think he can help out. do you know
him?
Duane DeTaub
Assistant Shift Manager
-----------
Fri, 4 Apr 2003 03:27:44 -0800 (PST)
From: "Mohammed Danjuma" <mohammed_danjuma008@yahoo.com>
Subject: URGENT!
To: "Duane Detaub" <duanedetaub@yahoo.com>

Dear Mr. Duane,
I am very sorry for my late response to you.Yes, I have been very busy
lately
because of the coming elections here in Nigeria which is just a couple of
weeks from now. You don't have to hire any lawyer or attorney over there in
the US. When the time comes, you will hire an accreditted attorney here in
Nigeria who will sign the neccessary paperworks on your behalf.
I am sorry I can't send you a picture right now. My scanner is
malfunctioning
but I may fax it to you if you like. Otherwise, that has to wait till I get
mny scanner back on track.
Meanwhile, I will want you to send me the following details in your next
email.
1. You full bank details including the bank name and address.
2. Your company name and address.
Please have these infos sent to me immediately so that we can begin the
processess involved in the getting the funds into your bank account as
earlier
discussed.
I await your urgent response.
Best regards,
Mohammed.
----------
Mr. Mohmmed,
Aint you been listenen? We can not send or mail to the company because if
Vernon catches on he is going to want in on all this and we don't want that.
I gots a good plan and he can not know. Now listen close like, I done put a
pictur with tthis so you can see what I am meaning. Look at the pictur.
Vernon is the nutter with the 45 wavin it around willy nilly. That boy aint
right. This aint the only reason I done sent the pictur. Look again and see
the fellow right behind Vern. Buckminster Gribble is his name but we calls
him Buck. Buck will be helping us when we get our money Ill be a gottin from
you. I aint telling you my whole plan cause you aint sent me a pictur like
you done said you would. But here is the first part. We going to open a new
tanning place called Get Down and Get Brown and its going to have real dancy
music, you know like REO Speedwagon and Molly Hatchet. Now there is a real
good part after this but I cant tell you yet but we will need Bucks help
because he is real good with the interneck. Now I got some things that need
money so I need to get our money over here now. I got another real good idea
for a getting that money back over here I tell you what. I know that the
money we getting is going to take up a lot of room and you cant just walk
into the US of A with a suitcase full of money cause they will think you a
terrerist and shoot you right there. So I was watching the tv and there is a
show called Nutty Professer. Its got a black dude that is skinny but
sometimes he is real real fat. He got a fake suit that make him look real
fat so I reckon I can get one of them fat suits and hide the money in it
cause im real thin. As long as you aint got metal in your money no one will
ever know they just think I been eatin a lot of potaters. Im tellin you what
I got to get this going and get out of town. Philla driveng me crazy. She
wont even do the laundry no more. I had to dry off with a tennis shoe this
mornin. Ill be over there real soon then.
Duane DeTaub
Assistant Shift Manager
I borrowed the picture of Vernon from the same photographer. Once again, a little too perfect.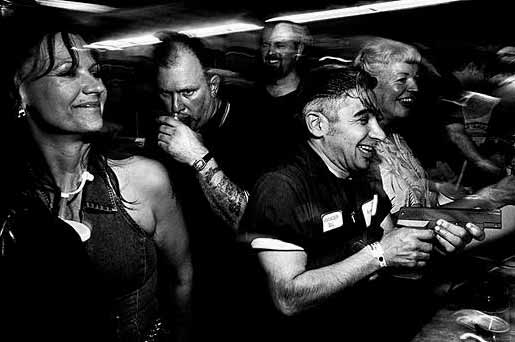 -----------
I suddenly became busy at work so I had to put Duane on the back burner. This caused Mo to be a little worried, so he sent a very nice email along with a picture!!!
From: Mohammed Danjuma < mohammed_danjuma008@yahoo.com >
Date: Mon, 7 Apr 2003 08:49:04 -0700 (PDT)
To: Duane Detaub < duanedetaub@yahoo.com >
Subject: HELLO.

Dear Duane,

How are you? Hope you had a wonderful weekend? I have not heard from you lately. Did you get my last email. Please get back to me soonest.

I have repaired my scanner and I have attached my picture to this email.

I expect to read from you as soon as possible.

Thank you,

Mohammed.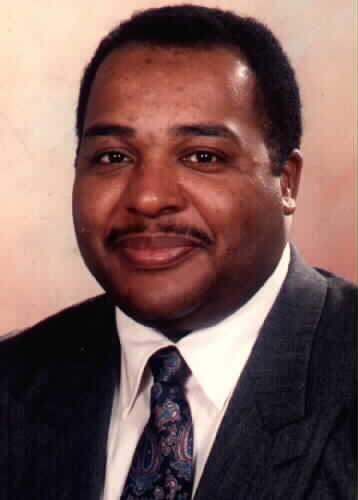 well, he sure looks respectable, and I'm sure he didn't steal this from another website or anything...
-----------
Date: Sat, 12 Apr 2003 02:47:25 -0800
Subject: re: Hello.
From: Duane Detaub <duanedetaub@yahoo.com>
To: <mohammed_danjuma008@yahoo.com>
Mr. Mohmmed,
Yessir, I know time is a mean mistriss and I intends to backhand her one of these here days. Ill have you know that I have not been sitting round with a thumb up the ass. I been to the big city to set up all that needs doing with Get Down and Get Brown. I have met with Mr. Ignatius J. Reilly the lawyor and I reckon he is a decent sort of fellow for a fat bastard suit wearing type and he will be helping with a lot of the things I don't undergets.
i wonder if he will take the fat bastard suit wearing comment personally?
There are lots of papers that have to be written which I aint too good at. I got people skills dammit and I cant be wearying bout all them tricky laws and goverment dealings. Im very glad to be back from the big city. I have a desk by the window at home now and I can look out and see the squrrils and they are merry.
(that last line was from Office Space. god I love Milton!)
Mr. Reilly will be talking to you very soon and im sure he will do a very good job seeing as I hhave paid him up front and he say I am his most important cleint. I cant wait to be gone from When a Tan Loves a Woman. You and I are going to have a much bertter business. Wait til you hear the whole plan. Whoooeee its a doozy. My heads spinnin just thinking bout it. Well I reckon I best get some sleep as tomrrow is the big funeral for Corky. The cops finally let his family get the body back from the evidince. I think I told you bout him, he the retarded boy who lived two trailers down from me. Poor boy had to sit on the toilet with a helmet he was so messed up and I bet they is going to burry him with it. Well be talking real soon you hear.
Duane DeTaub
Assistant Shift Manager
-----------
Time to meet my other character. I invented the lawyer so that I could have more fun annoying and insulting Mo without having to keep coming up with hillbilly schtick.
Greetings and Salutations Mr. Mohammed_Danjuma,
I am I.J. Reilly, senior partner with the prestigious New Orleans based law firm of Dewey, Reilly, Cheathem and Howe. We have recently expanded our practice to include Texas and in the process of opening our firm's livestock division in Lubbock, I had the great fortune to meet a colorful character by the name of Mr. Duane DeTaub. Mr. DeTaub has a smashing business plan, as you may well know. He has retained my services to ensure success, and has listed you as a potential partner in Get Down and Get Brown, a Limited Liability Corporation. I understand that you will be investing a tidy sum, and have heard from Mr. DeTaub that you are quite eager to transfer these monies and begin what surely will be a profitable investment in the solar epidermis augmentation industry. I look forward to effectuating this transaction with alacrity. A cashier's check in U.S. Dollars should suffice, please remit directly to the address below in care of GD&GB Enterprises, LLC. Please do NOT use UPS. I find them boorish, incompetent and dull as a wet Kleenex. Fedex is our preferred negotiable documents carrier.
I was very surprised to hear of your voting woes and nefarious deceptive returns concerning your presidential election in Nigeria, a country known for it's veracity and strict moral conduct. Or am I thinking of Norwegians? I always get the two mixed up.
Sincerely,
I.J. Reilly

-----------------------------------
I.J. REILLY, ESQ.
SENIOR PARTNER
DEWEY, REILLY, CHEATHEM & HOWE, LLP
PO BOX 667
LUBBOCK TX 79408-0667
"If we can't fix it, we'll fix it so
no one else can!"
----------------------------------
From: Mohammed Danjuma < mohammed_danjuma008@yahoo.com >
Date: Fri, 25 Apr 2003 11:47:04 -0700 (PDT)
To: "Ignatius J. Reilly, Esq." < ignatiusreillyesq@yahoo.com >
Subject: Re: Duane DeTaub partnership

Dear Mr. I.J Reilly,

Thank you for your mail. The election in Nigeria was peaceful and fair, although not totally devoid of some manipulation which is inevitable all over the world just as we witnessed in Florida some few years back.

(whoa! nice jab mo!)

Meanwhile, a lot of water had passed under the ground in this transaction. The money has been released from the Apex bank in cash and we are at a stage of negotiating with another person to be the beneficiary, because we feel that Mr. Duane Deutab is not capable to handle the transaction. However, your timely intervention on his behalf is soothing. The cash cannot be taken to the Bank or converted to a cheque for security reasons. As civil servants we cannot expose ourselves by taken the money to the bank because the source of the money will be questioned and this will automatically jeopardize our position by revealing our role in masterminding the payment; only the Apex bank can transfer such an amount of money out of the country. Hence, we have decided to move the boxes containing the funds through diplomatic courier system explained below to any eventual choosing destination.

The Diplomatic Courier Modality is explained below:

The cash $35 million USD is in 2 trunk boxes, the boxes will be shipped to your base and delivered to your doorstep through diplomatic courier service (DCS) of the External Affairs Ministry. I hope you know that Diplomatic luggage?s cannot be check at any port of entry all over the world.
Although diplomatic courier service is exclusively created for diplomats but my contact at the DCS office in the Ministry of External affairs here in Nigeria will ensure that the boxes are shipped along with other diplomatic luggage?s to you in your base. The contents of the boxes will be declared and Insured as classified documents and insurance bond instead of cash. The actual content of the boxes would not be revealed to anybody for security reasons. After receiving the boxes, you can then put the money in the bank for the proposed investment or keep it in a safe deposit box till we are able to join you.
DCS system of moving big volume of cash is safe and tested. In the light of this DCS modality; your thoughts, opinion and response are very much welcomed.

Please let me read from you as soon as possible and also include your private cell phone number for a verbal discussion.

Mohammed Danjuma.

234-1-7752675.
-------------------------------
Sadly, I had so much work I had to take a break from messing with Mo. During this time, my Ignatius email box got deleted which messed everything up. I tried to email Mo from Duane's account, but he disappeared and never responded.
------------------

Mr. Mohmmed,
i have relly bad news. mR. Reilly was kicked in the
head at the J-Zee cattle ranch by the oweners prize
heffer. he is still in the hospitil and aint himself.
I went by and he is in very bad shape. dont reckon i
know what to do about now.
Duane DeTaub
Assistant Shift Manager
------------------
So sadly, our correspondence ends here. I had such high hopes for bringing Vernon into the mix as well. The ultimate plan was to convince Mo that we were going to open a new tanning salon that secretly videotaped the customers and put them on the internet. We were going to keep pestering him for money. When I have a free moment, I intend to try this again as I continue to get these emails, and I have no social life. I hope you enjoyed my little escapade.